Retirement and Layup Boarding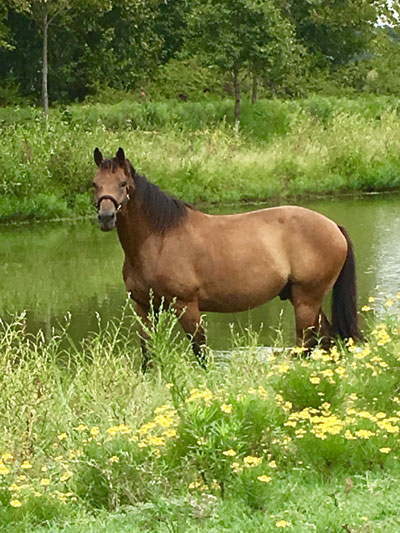 We are located just north of Dallas/Fort Worth and 18 miles from DFW Airport in Argyle, Texas. We are a small boutique private facility dedicated to the care and aging of convalescent horses. Boarding is permitted for retirees and layups only, and riding is not permitted.
Our Facility
Horses are turned out in small groups for companionship. Pastures are coastal bermuda and are fertilized twice a year. Footing is very sandy loam on softly rolling hills with loafing sheds and large trees for shade. There is even a large pond for those horses who like to indulge themselves in a swim.
What's Provided
Horses are grained twice a day and always have a source of high-quality fertilized grass or hay in front of them at all times. On the first of each month horses are paste wormed and twice a year they receive immunizations. All horses are trimmed by a professional farrier every 5 weeks. Loafing sheds are available for shelter. On extremely cold winter days and nights, horses are fed alfalfa for additional warmth and to encourage drinking.
Additional Services
Horses may be shod on the front but rear shoes are not allowed to prevent injury to pasture mates. Horses are held for the farrier and vet. Excellent dental services provided one to two times a year. Fly masks and blanketing service can be provided using equipment provided by owner. Shots, bandaging, soaking and general injury care provided using owners supplies. Stall board is provided for layup emergencies.
Please call 817-454-4537 for questions or more information on Services and Fees.